DeCrescente Distributing Company (DDC) is proud to announce a partnership to distribute Two Roads Brewing Co. of Stratford, CT.
Who is Two Roads Brewing Co.?
Two Roads was founded in 2012 by four friends who dreamed for years of starting a craft brewery. They foster a "road less traveled" philosophy in the beers they make and how they make them. In that spirit, Phil Markowski, their award-winning Brewmaster and 27 year craft beer veteran, has created an extensive lineup that takes a unique twist on classic beer styles. Two Roads was named one of the ten best breweries in America by Paste Magazine and has won many awards including gold for Belgian Lambic style Ale in 2016 at the Great American Beer Festival.
Purchase a Two Roads beverage today
Stop by your local Beverage Center or Grocery Store to purchase any of the Two Roads products below, cheers!
Two Juicy Unfiltered Double IPA
8.20% ABV
Two Juicy is an unfiltered, cloudy "New England style Double IPA" that uses generous amounts of Hallertauer Blanc, Citra & Mandarina Bavaria hops. The result is a "juicy", fully-charged DIPA with notes of grapefruit, pine, lychee, orange & tangerine against a soft malt backdrop.
Cloud Sourced Hazy Juicy IPA
6.50% ABV
Cloud Sourced is a hazy, juicy IPA that has an intense, citrus juiciness balanced with a soft malt core that, as the brand puts it "puts you on Cloud Nine!" Cloud Sourced is brewed with Cascade, Columbus, Centennial, Simcoe, Chinook, Citra hops.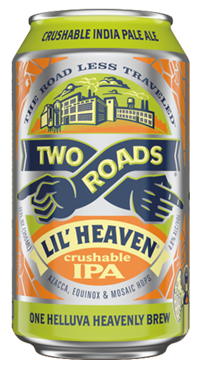 Lil Heaven Session IPA
4.80% ABV
A session IPA in a can. Made with three exotic hops – Azacca, Mosaic and Equinox. Taste is of tropical fruits, specifically passion fruit, grapefruit and apricots. Finishes with just enough toasted malt character to balance.
Road 2 Ruin Double IPA
8% ABV
A big, hoppy IPA with plenty of bite! Our assertive, hop-centric Double IPA has a lean malt backdrop and is brewed with four American hop varieties – Summit, Palisade, Cascade and Magnum. Piney, citrus, floral, not-for-the-timid!
Wee Demon, 95-calorie IPA
3.80% ABV
A devilish good low-calorie IPA featuring Ekuanot, Azacca, Simcoe and Citra hops to provide you with full hop flavor without all the calories! 95 Calories. 6 g of carbs.
Beer Bus Variety Pack
Hop on the bus with four delicious hoppy IPAs! Includes: Road to Ruin Double IPA (x3), Honeyspot Road Hazy IPA (x3), Lil Heaven Crushable IPA (X3) and our SHOP series – a pale ale (x3)
Craft Hard Seltzer Variety Pack
Made with 100% real fruit and features the natural splash of color that comes with it. Real fruit also means a more natural taste with none of the overly sweet, artificial fruit flavor of other seltzers.